The bathroom is a sanctuary, a room for relaxation and rejuvenation. You should feel regal whilst sitting on the throne! With this in mind we've put our heads together and come up with some fantastic ideas for your new bathroom.
A Free-standing, Roll-top Bath
If you can spare the space, nothing epitomises regal luxury more than a sumptuous free-standing bath. Perhaps a 'slipper' bath with its raised portion at one end for that extra piece of lounging pleasure. Picture yourself in the Cadbury's Flake advertisement of the 1990s, completely submerged in bubbles and eating chocolate in a seductive manner, at the peak of relaxation.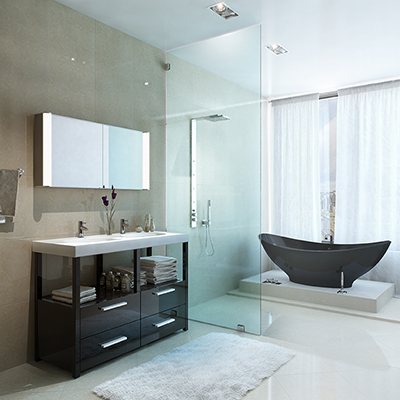 Floor to Ceiling Tiles
Tiles. It's all about the tiles. Tiles are fantastic for reflecting light and are perfect for introducing texture and complexity to a design while maintaining the necessary feeling of cleanliness. There's no need to use the same design for the whole room- why not highlight a feature with a complimentary mosaic design. You really can create a unique, tactile ambience for your bathroom, whatever size you're working with.
Grey is the Colour
That's right, grey is the new… er… um… colour for your bathroom! A grey bathroom exudes panache and sophistication. Try mixing the hues to accentuate different architectural elements and create a vibrant feature from the whiteness of basins, baths and shower bases. It really works wonders and lends a calming, soothing ambience to the room, particularly if you are working with a smaller space, or a less-than-ideal amount of lighting.
Underfloor Heating
The feeling of a cold bathroom floor after a warming bath or shower is one of the most miserable sensory disappointments around, but it can be completely banished with the addition of underfloor heating. Pioneered by the Romans, it is readily available nowadays without the need for slaves or purpose-built bathhouses, but of course, still with an occasional toga if desired. It really is the final piece for any bathroom's quest for luxury and comfort, especially during the colder months.
A Bidet
It seems strange that while we may spend a good deal of time and effort reducing our wasteful consumption and recycling as much as we can, many of us still use more than 3000 metres of toilet paper each year. There is a solution and it has existed for quite some time- the not-quite- so-humble bidet. Still commonplace across Europe and ubiquitous in Japan, the bidet is enjoying somewhat of a resurgence in the UK too. Without going into any gory details there are also obvious health benefits gained from a refreshing spray rather than an irritating wipe. So why not splash out on a bidet!
An Illuminated Bathroom Cabinet with Ambient lighting and Bluetooth Audio
To really put the cherry on top of your exquisite bathroom cake you need a resplendent cabinet. An illuminated mirror behind which you can store all your bathroom necessities. With additional ambient lighting from underneath the cabinet you can really create a comforting ambience and with in-built Bluetooth audio you can play your favourite music. You may never want to leave your bathroom again!